ICAR-CIFRI adopted 500 SC families of Sundarbans for sustainable livelihood development

Barrackpore, 16th September, 2022
ICAR-CIFRI organized a mass awareness cum livelihood initiatives on 16-09-2022 by providing various inputs such as fish, fish feed and lime to the 500 SC farm families from 19 villages of Sundarbans mangrove areas with an objective to increase their income through fish farming in their backyard ponds as well as providing nutritional security through protein supplements. This initiative of ICAR-CIFRI is being practice since past 2 years. This year 500 new beneficiaries are being added to enhance their income. Dr. B. K. Das, Director, ICAR-CIFRI inaugurated the mass awareness cum training programme in presence of Regional Manager, SBI, South 24 Parganas, West Bengal and President, Kultali Milon Tirtha Society. In his welcome address he appraised, earlier around 1500 families of sunderbans have been benefitted through SC and STC programme by increasing their income to Rs. 35,000/- and above with an investment by ICAR-CIFRI of Rs. 8000/-,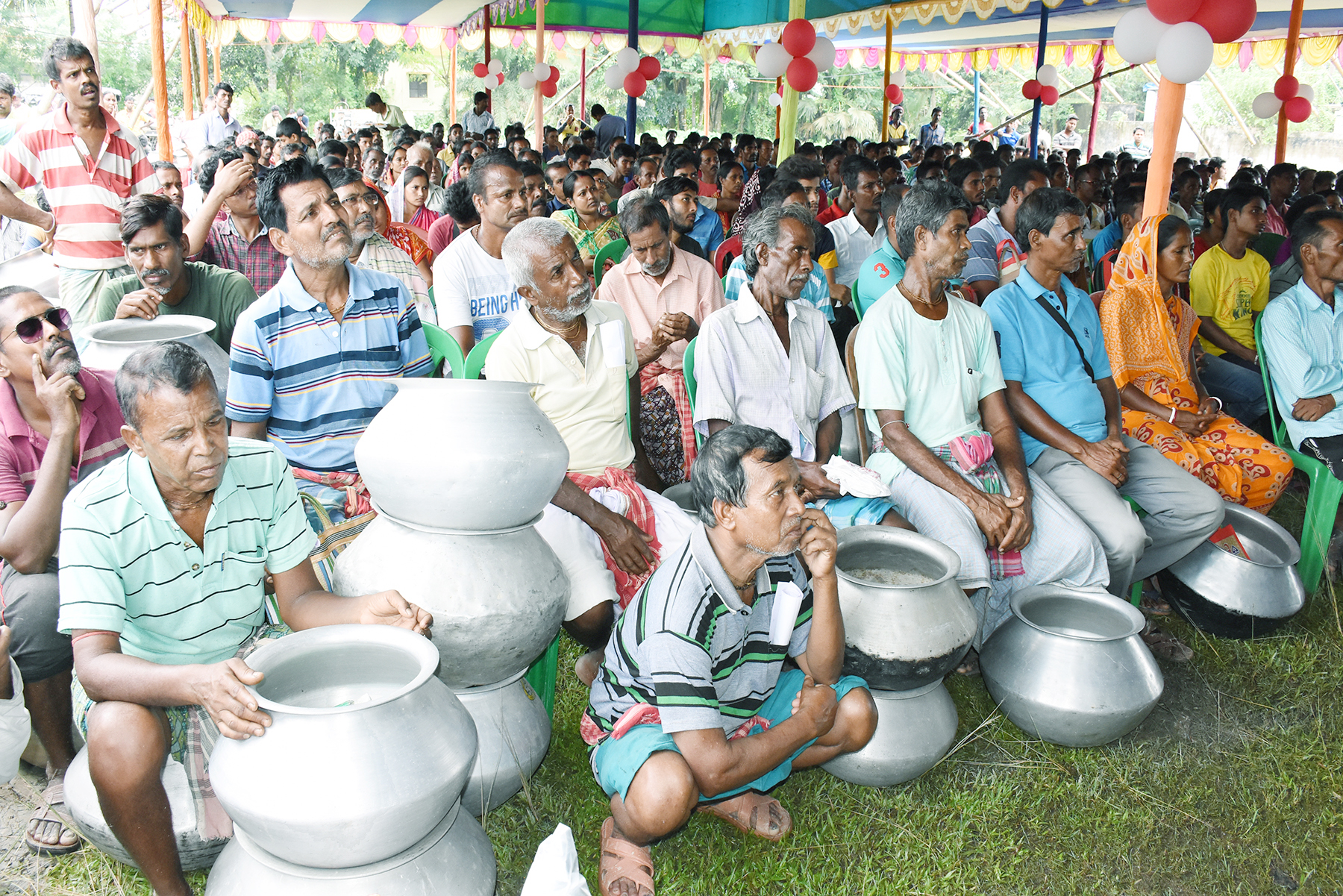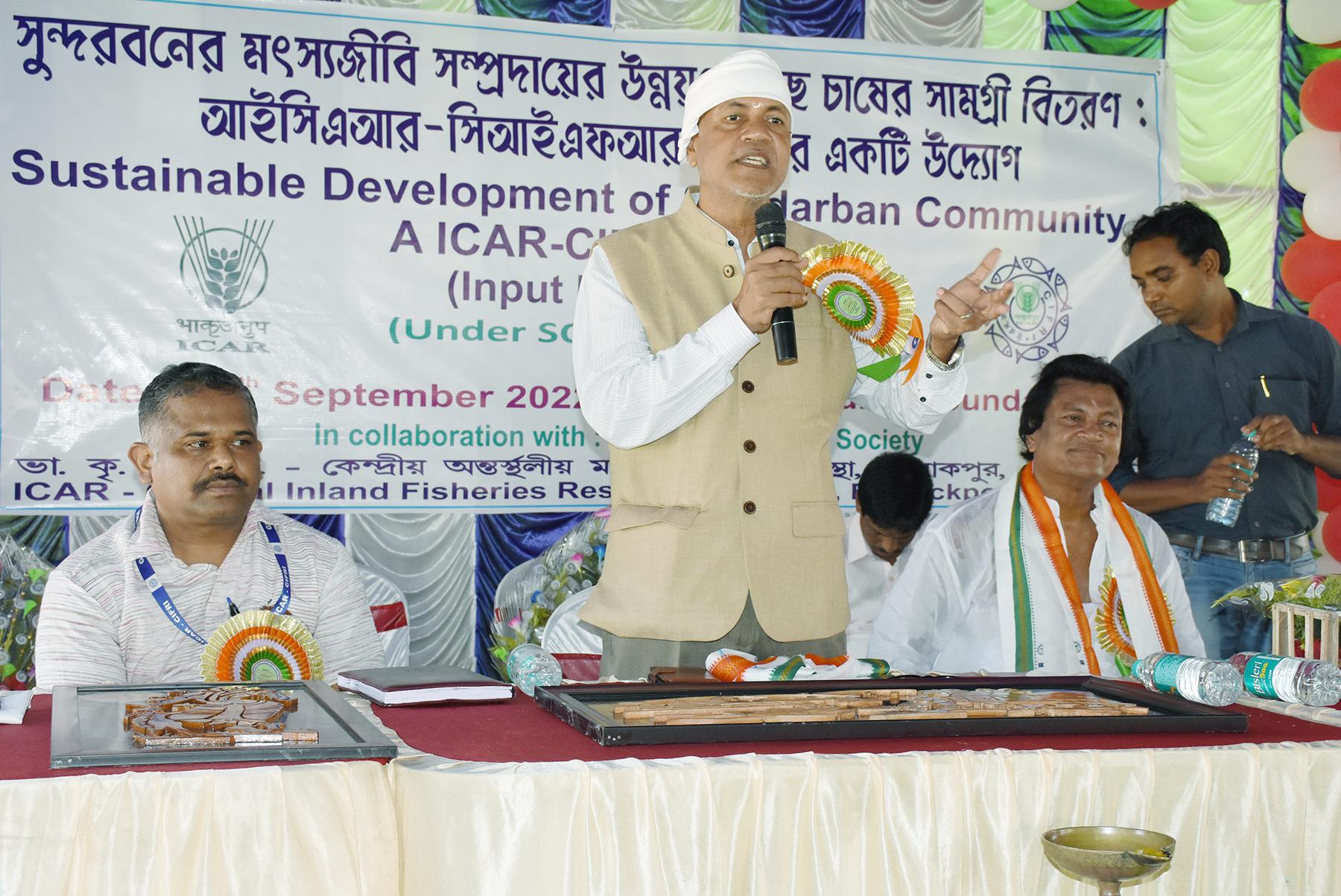 besides catering their protein need for nutritional security of their family throughout the year. Further this farm families have also created a saving in the local nationalize bank and deposited the income earn from the fisheries activities. Similar model has been replicated to cover more beneficiaries, those are frequently affected by natural disaster and they don't have any alternative livelihood besides paddy farming. In last 2 years apart from dreaded COVID-19 pandemic, natural calamities like Amphan, Yass, Jawad etc. which has frequently broken the backbone of their economy. These meaningful proven interventions of ICAR-CIFRI could lead a sustainable livelihood option in the coming years. Shri Manoj Kumar, RM, SBI was also appraised the farmers, the credit linkage facilities to a total of Rs. 2 Lakhs without any co-lateral security which will act as a Kishan Credit Card to be provided to these farming communities with 7% interest and if paid timely could be reduced to 2% which will add feathers to the livelihood enhancement programmes to the remotest part of the Sundarbans area. Shri Lokman Molla, President, Kultali Milon Tirtha Society appraised that the noble intervention of ICAR-CIFRI for the poorest of the poor has resulted an eye-catching economic benefit and empowered the rural poor which was covered by various local print and electronic media. Further today's distribution of inputs such as fish, fish feed and lime to the 500 SC farm families would be an addition to their sustainability.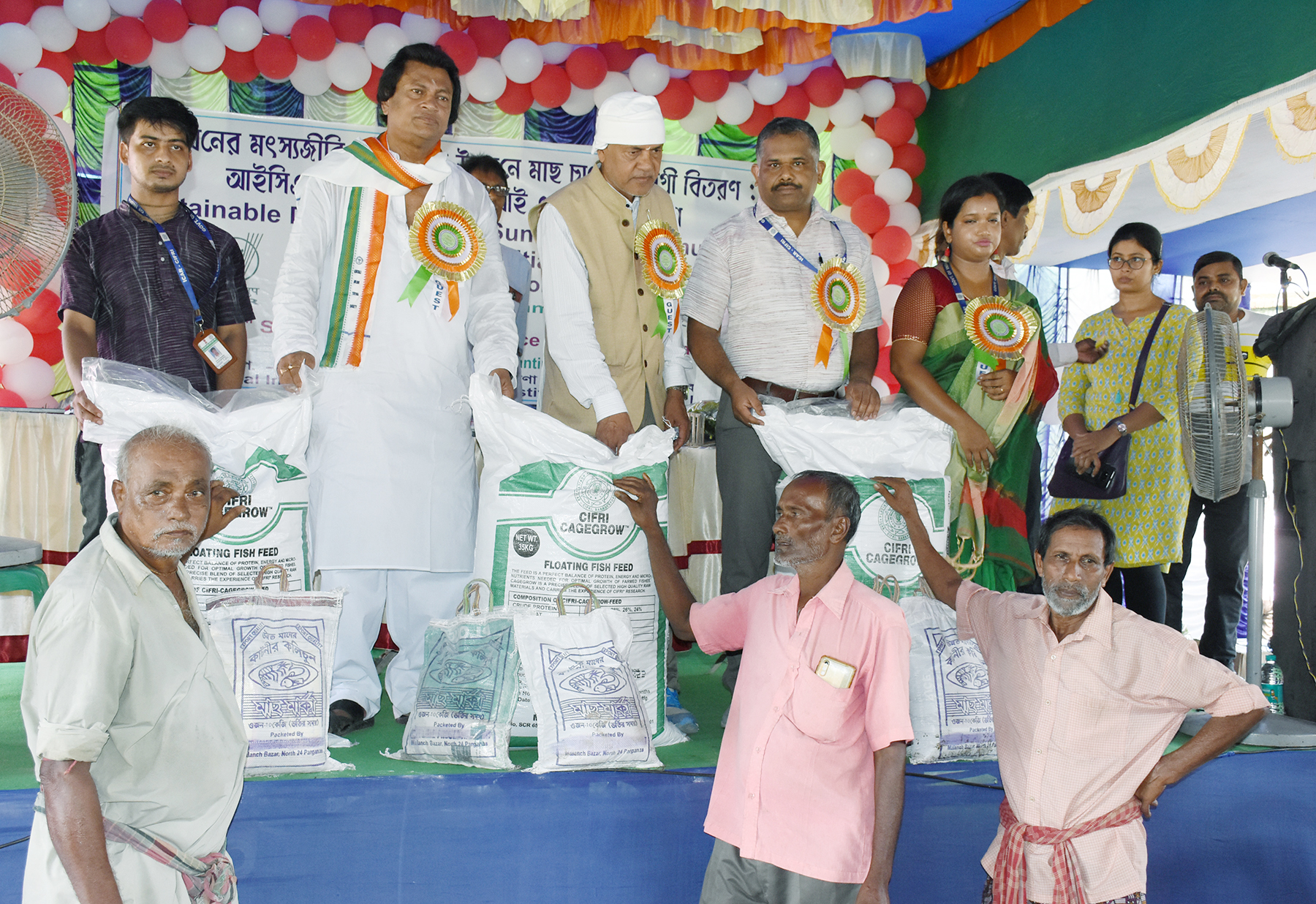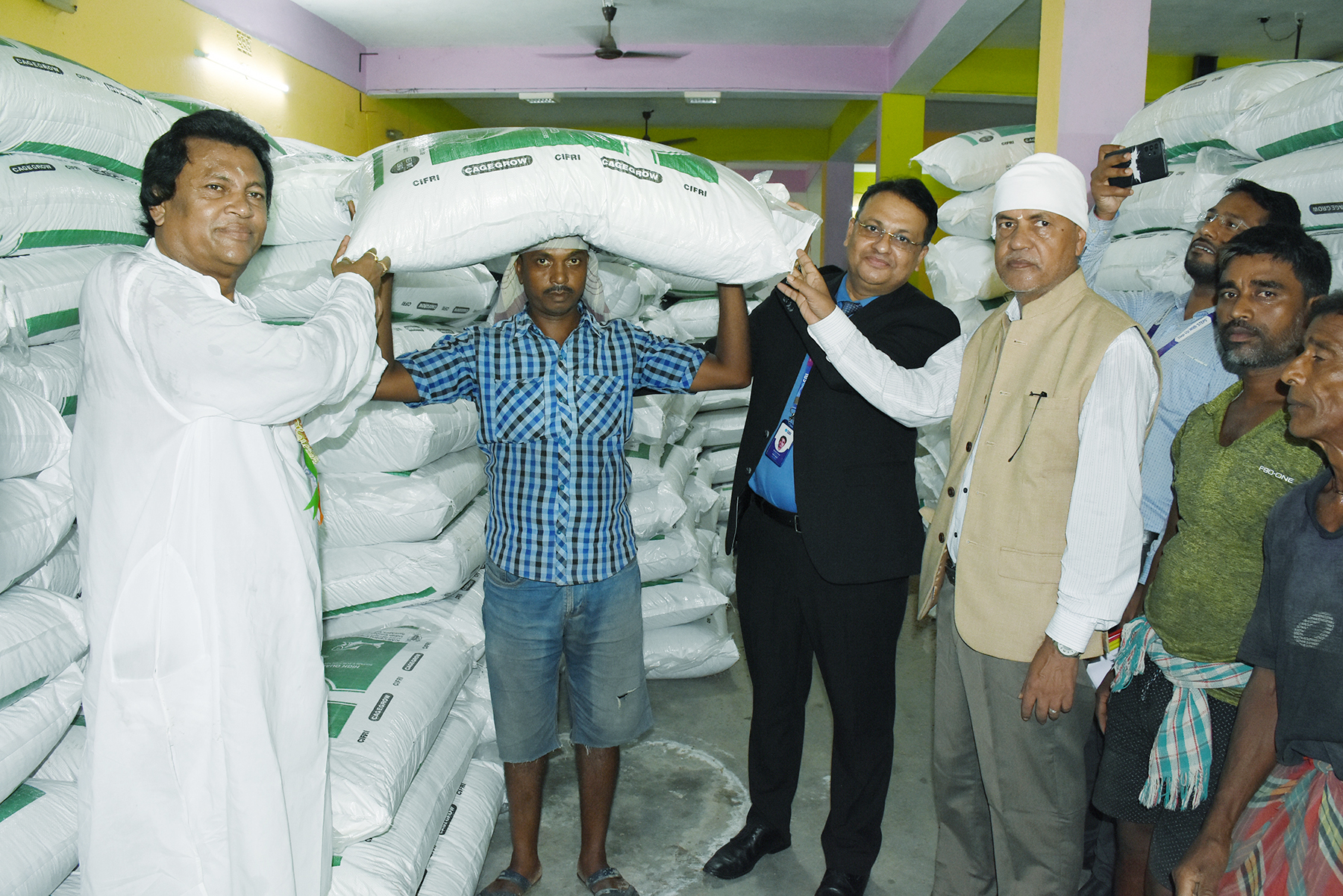 The joint programme of ICAR-CIFRI and Kultali Milon Tirtha Society in terms of facilitating the beneficiaries, providing logistic support and linking with ICAR-CIFRI in long run will address the Sustainable Development Goal not only for male fishing community but also for women. During the awareness cum training programme, Dr. P. K. Parida, Scientist cum In-charge, SCSP gave a detailed presentation of farming in backyard pond starting from pre-stocking management, stocking and feeding and measurement of the fish growth during the entire farming practice. This initiative is also addressing low input-based farming practice precluding the organic farming among the largest deltaic region looking into the ecosystem health as well as climatic conditions of the region. The entire programme was planned to a guided projection method where a minimal investment of 30-35 Lakhs would provide an income of 150 Lakhs which is more than 4-fold income envisages the Honorable Prime Ministers' vision of doubling farmers'income and addressing the National Mission of PMMSY.
After mass awareness cum training programme there was distribution of input to the beneficiaries after collecting their I'D proofs, SC certificates. The backyard ponds in these villages are used for their drinking cum fish farming purpose. As the area is predominated with most of the SC families (around 60-70% )and as these are the disaster prone areas with no alternative livelihood, this activity was planned and executed. This programme was coordinated by Dr. P. K. Parida, Mr. Sujit Choudhury, Ms. S. Bhowmick, Dr. Shreya Bhattacharya, of ICAR-CIFRI and members of Milon Tirtha Society, Kultoli.