River Ranching in Holy Saryu River at Ayodhya for Restoration of Fisheries

17th May, 2022
Under national ranching program, ICAR-Central Inland Fisheries Research Institute, Barrackpore, Kolkata organised river ranching in Holy Saryu River at Ayodhya,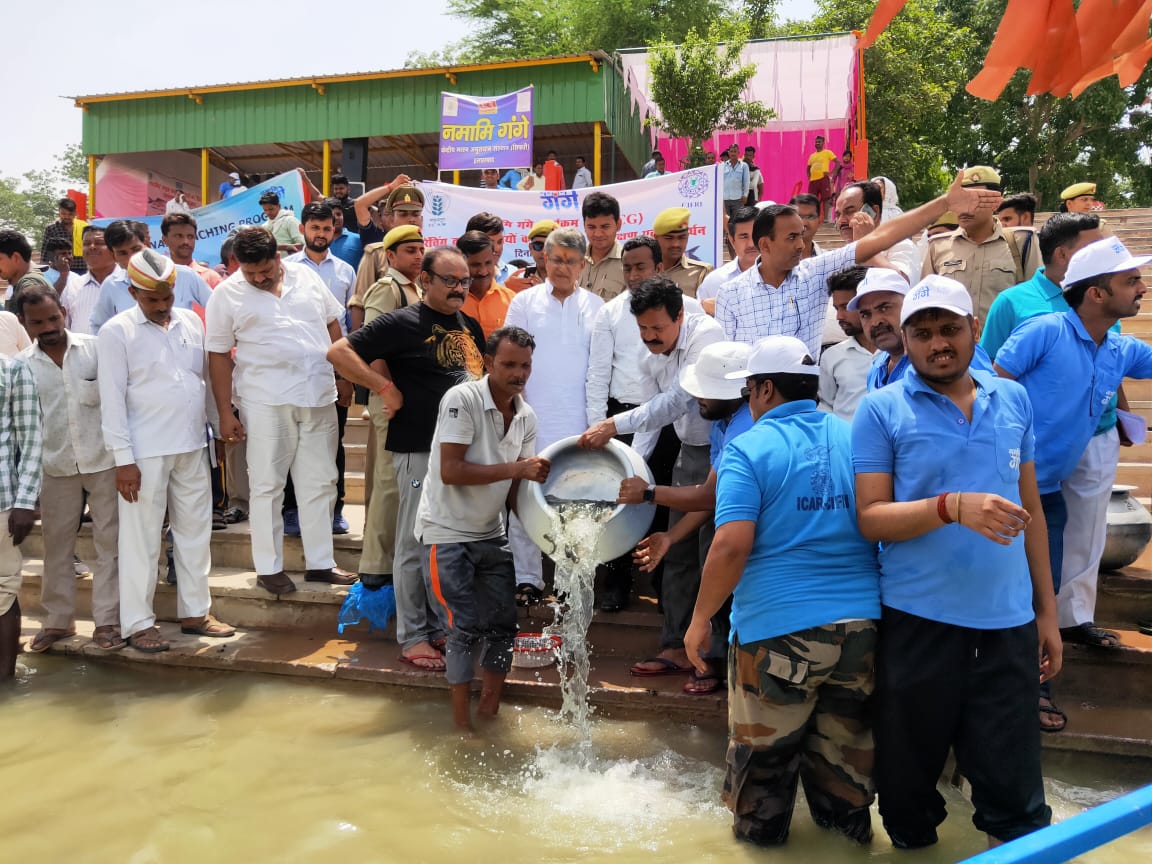 Uttar Pradesh on 17 May 2022. 2 lakhs advanced fingerlings of Indian Major Carp (Catla, Rohu and Mrigal) were ranched in Saryu river at Mukhtar ghat, Ayodhya under National Mission for Clean Ganga Project. The advance fingerlings seeds released into the river was for conservation and restoration of fisheries. The fingerlings were produced by artificially bred Gangetic brooders.
Shri Ved Prakash Gupta, Member of Legislative Assembly, Ayodhya graced the occasion as chief guest and Shri Nitish Kumar, IAS, District Magistrate, Ayodhya as guest of honour. Shri Ved Prakash Gupta, in his address as chief guest emphasised that a new beginning has been made in restoring the biodiversity of River Saryu through releasing of 2 lakhs fish seeds of Indian major carp fish. He thanked ICAR-CIFRI and NMCG for this noble initiative.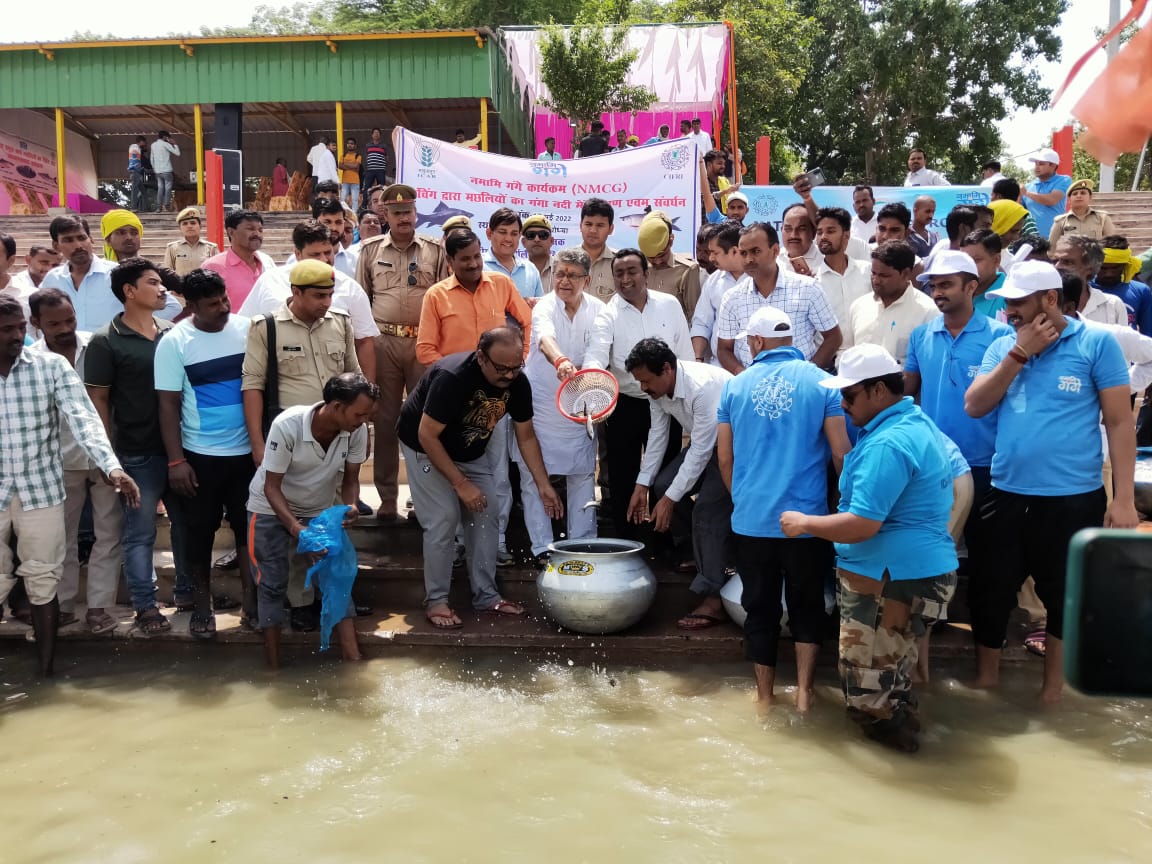 Shri Nitish Kumar, DM, Ayodhya in his address, requested fishers of the area to catch only big size fish from River Saryu. He stressed that ranching program will help in the conservation and restoration of fisheries in Saryu and provide livelihood to a large number of fishers. Dr. Basanta Kumar Das, Director, ICAR-CIFRI and Principal Investigator of the project sensitized local fisher folks and highlighted the importance of river health required to sustain fish & fisheries and Dolphins. On this occasion, twenty five cast nets were distributed to the active fishermen of the locality to improve their livelihood.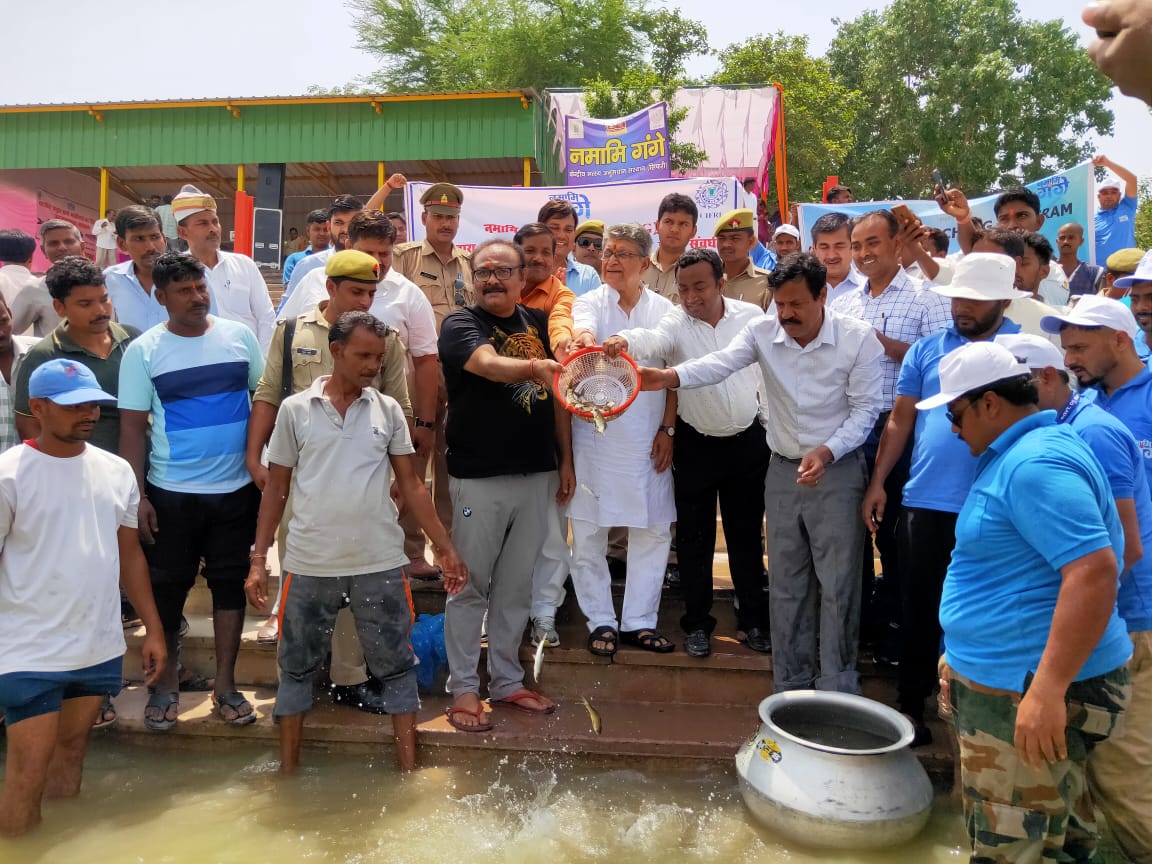 The programme was organized following the Covid-19 protocol with distribution of masks and sanitizers. Dr Sandeep Behera consultant, NMCG, officers of District administration, Ayodhya Police, NMCG, ICAR-CIFRI etc. were present on this occasion. Active participation was noticed among all the sections of the society at different banks of river. The national ranching programme was initiated from Barrackpore, West Bengal by Director General NMCG, Shri G Asok Kumar, IAS on 14 May 2022., Scientists of CIFRI witnessed the program.