Penculture demonstration cum awareness programme at Taurenga, Gariabad, Chhattisgarh in collaboration with DOF, Chhattisgarh

13th May, 2022
Chhattisgarh is a landlocked and heavily forested state located in Central India. The State has a total of forty two (42) Scheduled Tribes. According to Census, 2011, Chhattisgarh has about 7.5 percent of India's tribal population and tribal people form about 30 percent of the state's population. ICAR-CIFRI has taken initiatives to uplift the socio-economic status of the primitive tribal populace of Chhattisgarh by joining the hands with Department of Fisheries, Chhattisgarh.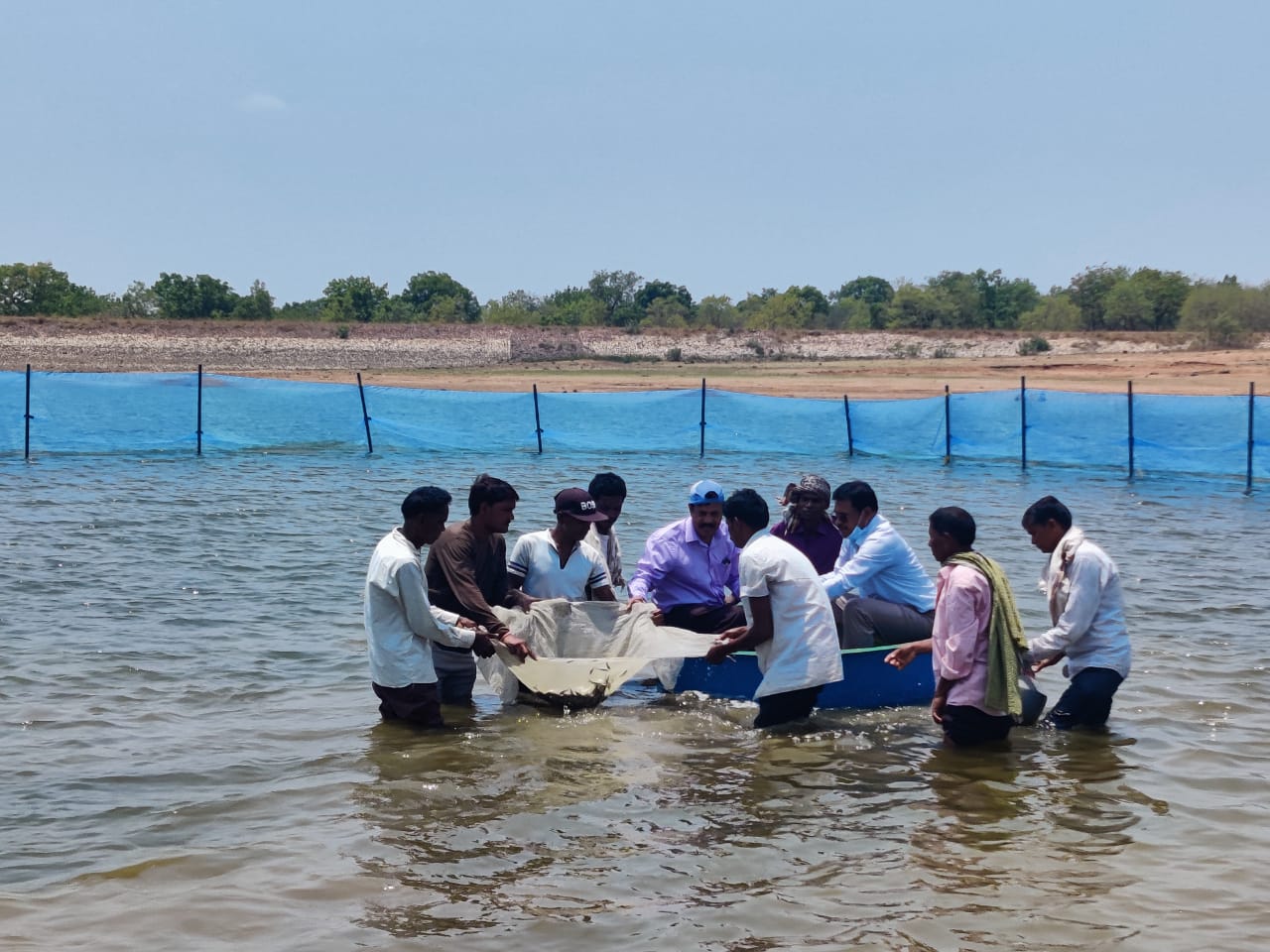 Reservoirs and dams are the major inland open water resources in this state. ICAR-CIFRI has undertaken fish production enhancement programme in small reservoirs in Chhattisgarh through participatory mode by involving the Primary Fishermen Co-operative Societies (PFCS) of the selected reservoirs under the leadership of Dr. B. K. Das, Director, ICAR-CIFRI. The Institute has provided twenty numbers of pen, ten boats with engine, twenty coracles and twenty tonnes of CIFRI Cage Grow feed in ten selected small reservoirs in Chhattisgarh viz. Taurenga, Bahera Khar , Sutia Path, Matiamoti dam, Koserteda, Rabo, Ghunghutta, Gej, Kesavanala. ICAR-CIFRI organized a Penculture demonstration programme in collaboration with DOF, Chhattisgarh at Taurenga Reservoir on 13th May, 2022 with the objective to raise in situ fingerling in the pen for enhancing the production of the reservoir in a cost effective way.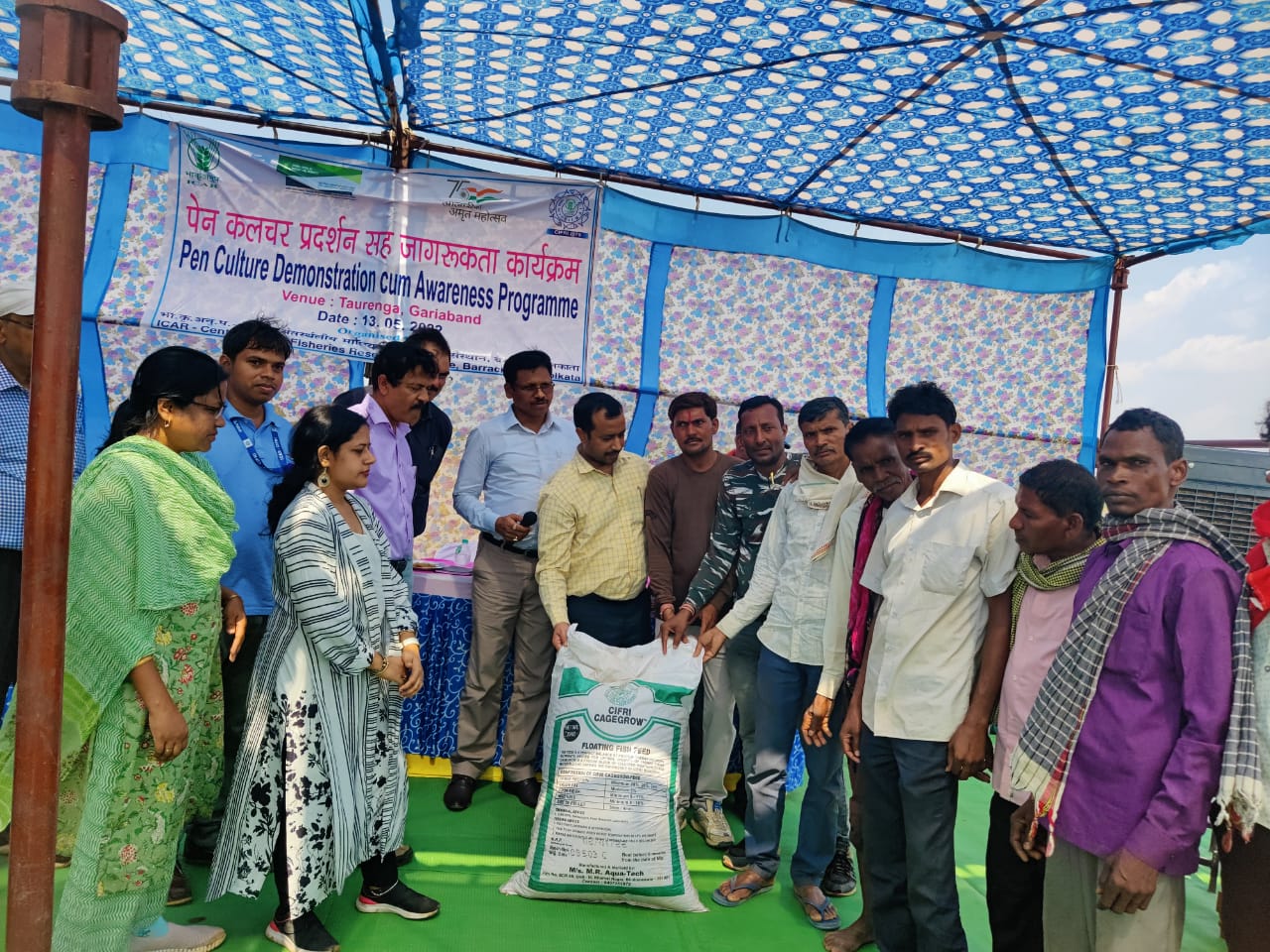 Dr. B.K Das, Director, CIFRI and Shri N. S. Nag, Director of Fisheries, Chhattisgarh released the fish seeds in the pen installed in the reservoir. After the demonstration a sensitization programme was organized in the reservoir site. Dr. Das addressed the gathering and informed them about the importance of Penculture for fish production enhancement in the reservoirs. He also projected the importance of fish for livelihoods and nutritional security. Sri N. S Nag, Director, Chhattisgarh while addressing the tribal fishers told that the penculture intervention is a tool to raise in situ fish seed in the reservoir which will not only improve the production of the reservoir but also reduce the cost of production, subsequently the livelihood of the fishers will be improved. A total of 56 tribal beneficiaries were present in that programme.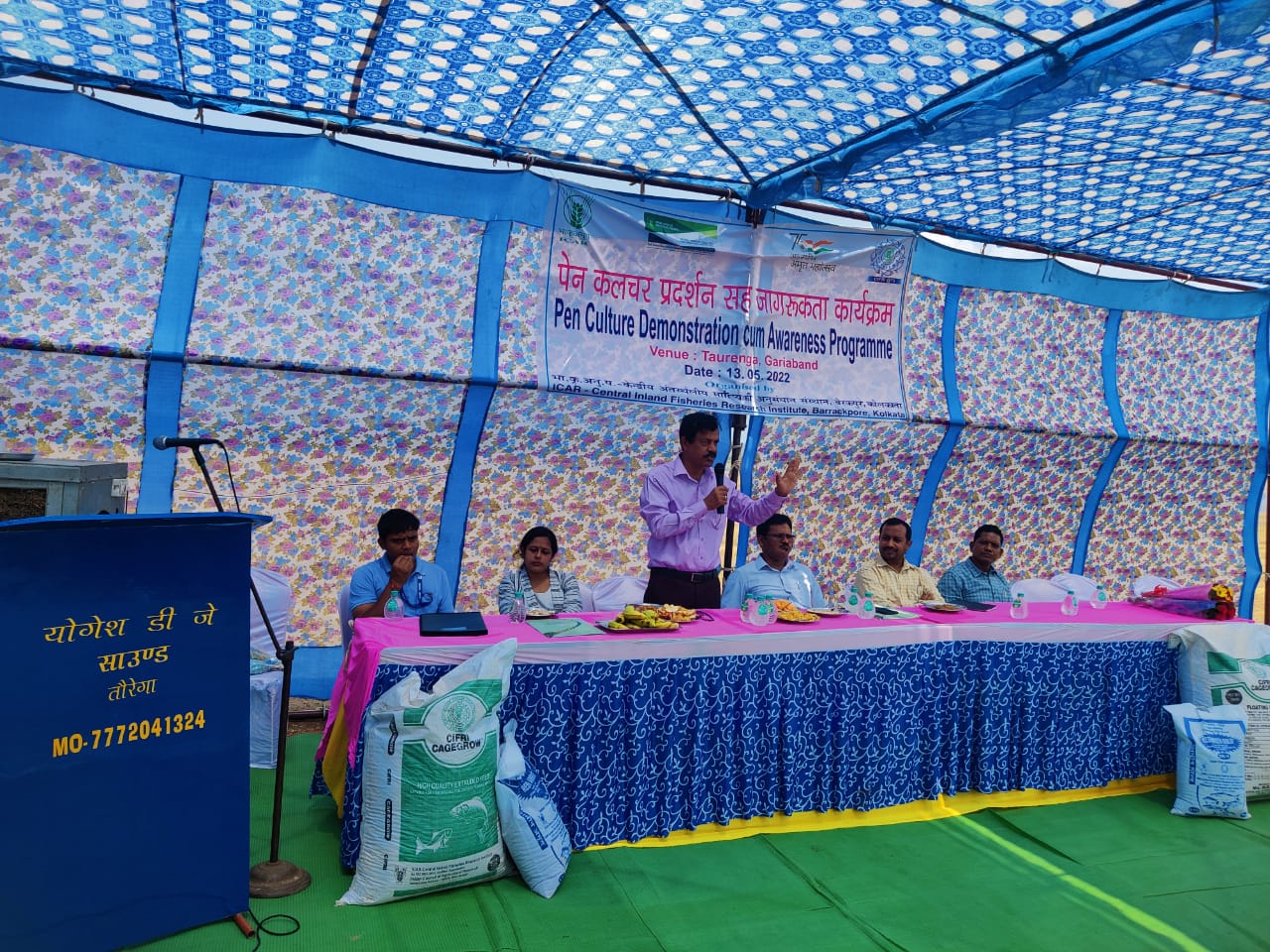 CIFRI has developed feed under a project funded by Central Silk Board for different life stages of fish. A total of 10 bags of feed, each containing 5 Kg has been handed over to the tribal fishers of Chhattisgarh for trial by Director, CIFRI Dr. B.K Das. The pellet size of the feeds were 2, 3 and 4 mm that contained 32 % crude protein and 6% lipid, 28% crude protein and 5% lipid and 25% Crude protein and 5% lipid, respectively. These floating feeds are highly digestible and water stable, support good growth and health of fishes and fishes will remain very active and energetic. The programme was coordinated by Dr. Aparna Roy, Sr. Scientist ; Sri Satish Kaushlesh, Scientist; Sri Kaushik Mandal,TA of ICAR-CIFRI with active support from Shri D K Singh, DDF and Shri A. Basisth ,DDF; Ms Madhu Khakha,ADF; Shri Sourav Chandrakar, FI of Department of Fisheries, Chhattisgarh.