Skill development programme to upscale the socio-economics of Gopalganj, Bihar fish farmers

25th April, 2022
A seven days training program on "Inland Fisheries management" for the Gopalganj Bihar farmers was concluded by Dr, B.K Das, Director, ICAR-Central Inland Fisheries Research Institute, Barrackpore on 25th April, 2022. A total of 21 farmers were nominated by District Fishery Officer, Gopalganj for this week-long training programme, from 19th April to 25th April, 2022. Gopalganj district has fresh water resources of 997.8 ha. It is also rich in Chaurs and Mauns. Since 2016-17 ICAR-CIFRI has trained 111 farmers of Gopalganj District on inland fisheries management. In the inaugural session, Dr. B. K. Das, Director, ICAR-CIFRI interacted with the participants and encouraged them to develop the knowledge and skills on inland fisheries management which will help them to generate employment and livelihood security. He also said that Bihar State is one of the sleeping giants in inland fisheries, given that the fisheries resources are utilized scientifically. Dr. Das also briefed the trainees about the new entrepreneurship avenues available in inland fisheries of India.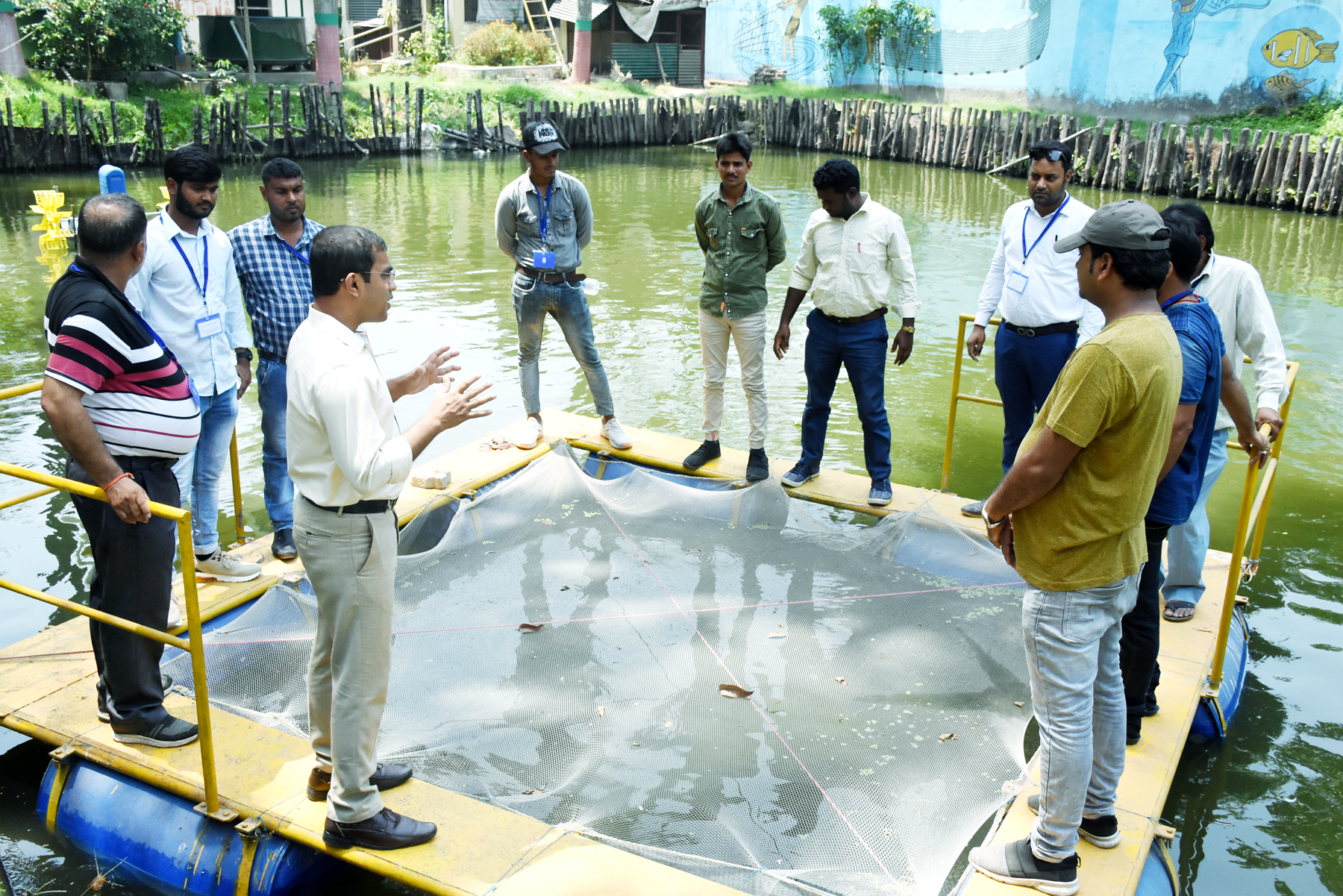 There is ample scope of livelihood improvement through development of inland fisheries in this district. In this training programme, ICAR-CIFRI aimed at bridging the knowledge, skill and attitude gap of the farmers towards inland fisheries management. The programme contained class room sessions on fish feed management, disease management, soil and water chemistry, induced breeding, composite fish farming, ornamental fishery, enclosure culture, economic evaluation, PMMSY schemes; practical sessions on: water quality assessment, fish feed preparation, natural fish food organism; followed by field exposure visits and ornamental fish hatchery visit. Feedback from the trainees will be obtained with structured format at the end of the programme.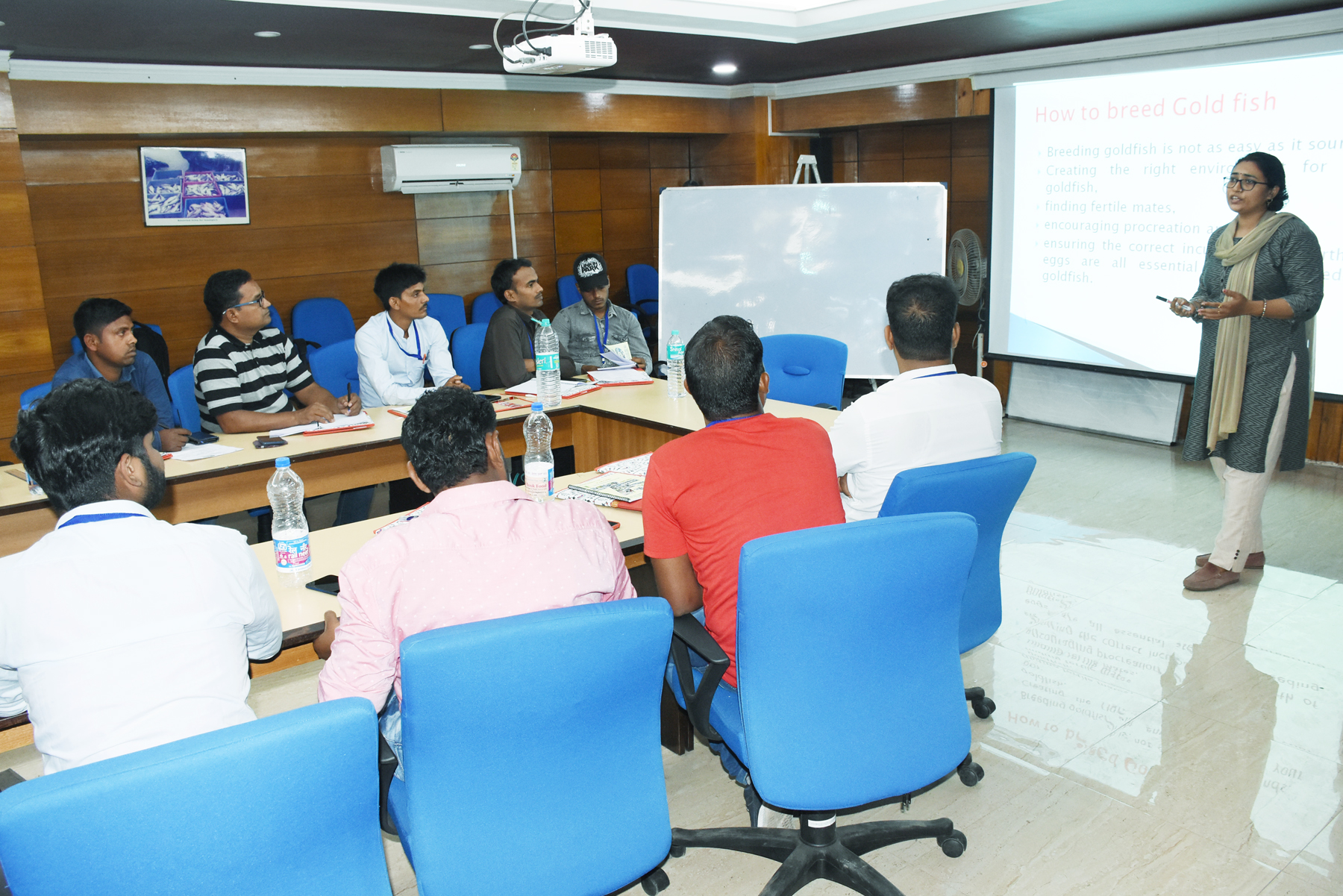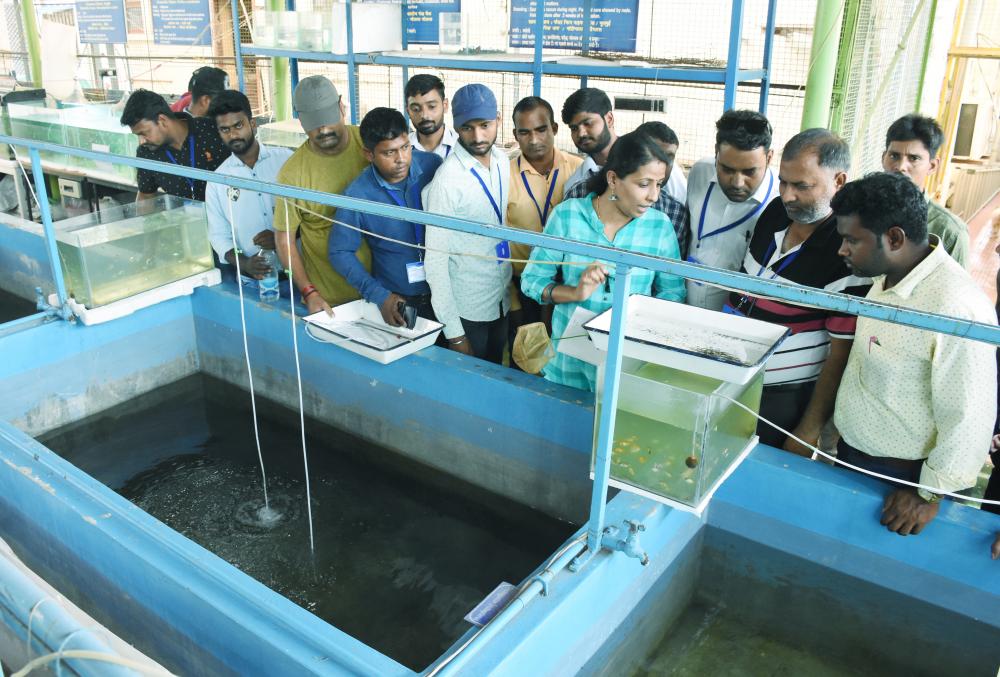 The trainees also participated in the programme on Natural Fish Farming conducted by ICAR-CIFRI under the 'Annadata debo bhava' campaign on 23rd April, 2022 where the benefits and requirements of natural fish farming was elaborated by Director, CIFRI by citing references from our ancient scriptures and highlighting the potential it has in mitigating the environmental degradation and also making the ventures of aquaculture sustainable and more profitable. On the last day of the training programme they also participated in the quiz competition organized by ICAR-CIFRI on 'Ornamental fisheries and nutritional importance of fish' on 25th April, 2022 as a part of 'Kisan Bhagidari, Prathmikta Hamari' campaign under 'Azadi Ka Amrit Mahotsav' from 25th to 30th April, 2022 and certificates were distributed at the end of the programme through a valedictory session. Dr. A. K. Das, Dr. Aparna Roy, Dr. Dibakar Bhakta, Mr. Sujit Chowdhuri, Mr. Avishek Saha coordinated the programme with great efficiency.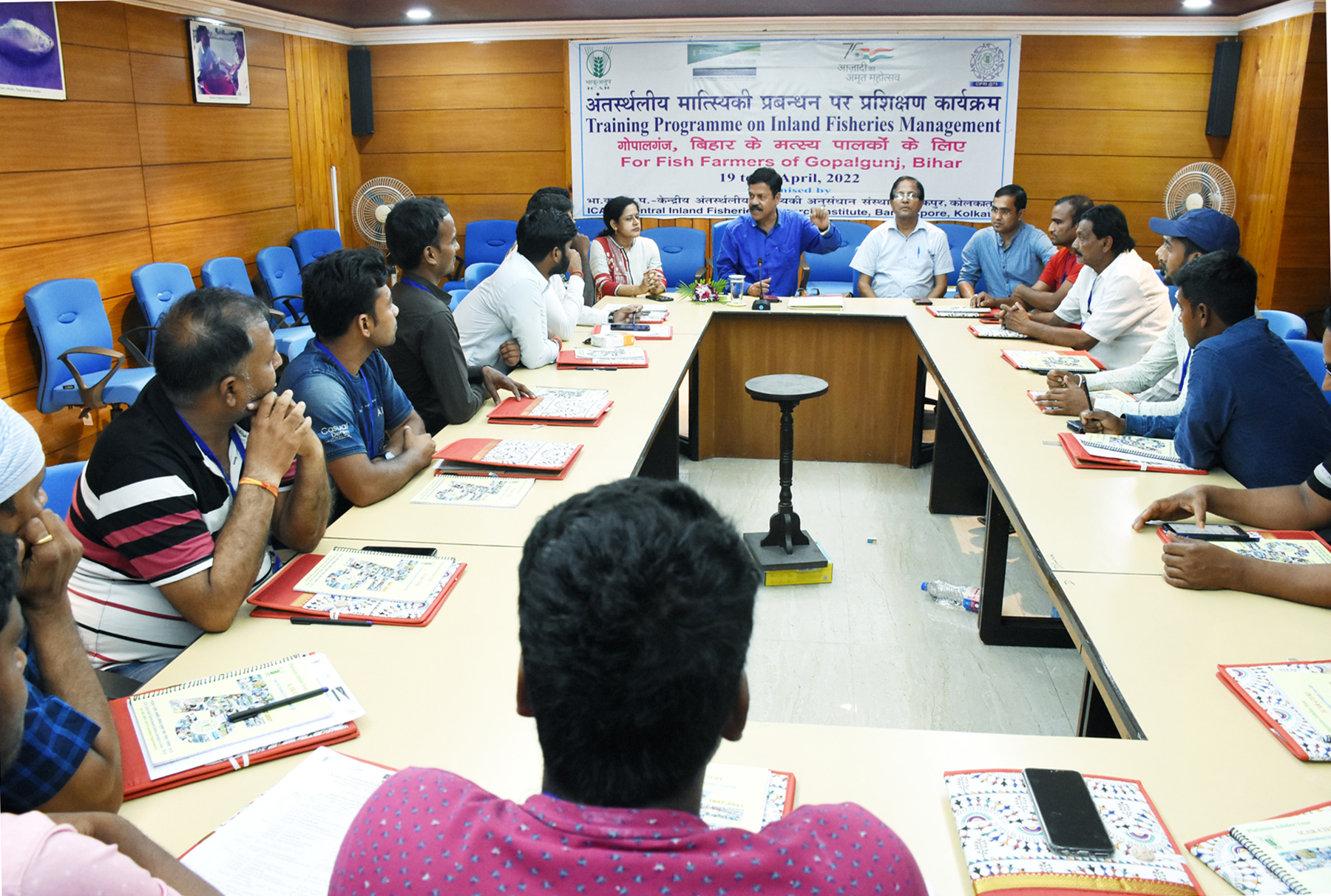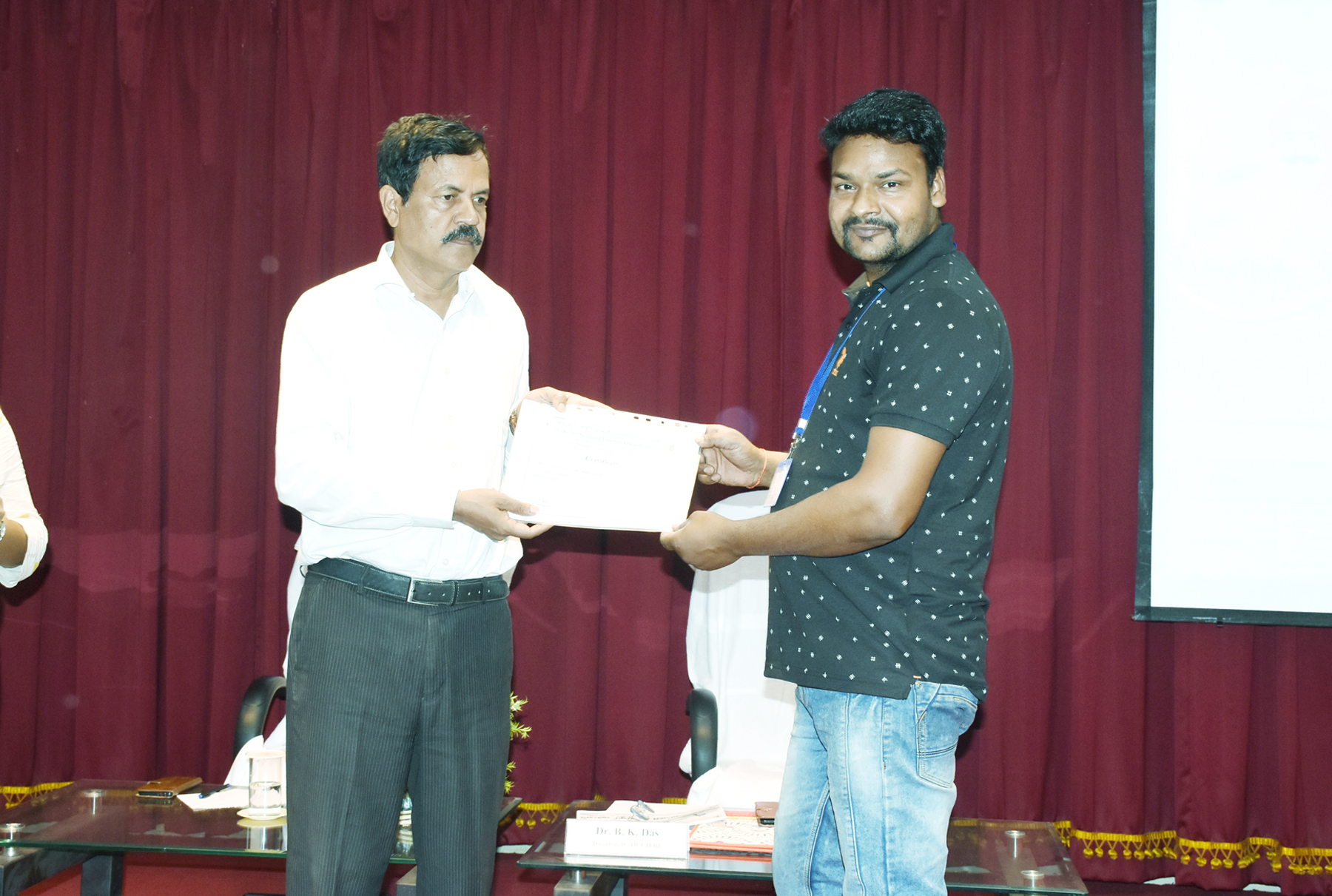 The programme has been oriented to strengthen the practical skills of the farmers for enhancing the fish production in open waters including ponds & tanks, through on-field exposure visits and field demonstrations besides class room sessions. It is anticipated that the training programme will have a positive impact on the trainees for livelihood improvement.